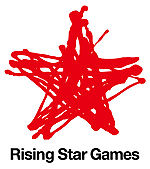 Rising Star Games is a video game publishing company that was formed as a joint business venture between Scandinavian distributor Bergsala and Japanese developer Marvelous Entertainment. The company was founded in 2004.
Its focus is to publish selected titles from its Japanese parent company's library for release in European and Australian markets. The company is based in Luton in Bedfordshire, England. So far the company has published over 30 titles for Wii, PlayStation Portable, Nintendo DS, and PlayStation 2.
Relation to Luminous Arc
Edit
Rising Star Games is known to have been the subsidiary of Marvelous Entertainment to work on the original Luminous Arc alongside rookie developer Image Epoch.
Ad blocker interference detected!
Wikia is a free-to-use site that makes money from advertising. We have a modified experience for viewers using ad blockers

Wikia is not accessible if you've made further modifications. Remove the custom ad blocker rule(s) and the page will load as expected.