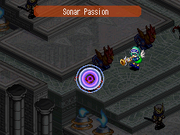 Sonar Passion (ソナーパッション, Sonāpasshon) is a wind elemental art used exclusively by Sadie in Luminous Arc 2. The art seem to to be physical attack but is actually a magical one. It can be seen as one tiled Aero Twister.
Sonar Passion is notable that it is the "cheapest and strongest" in the same tier spell.
Appearance
Edit
Luminous Arc 2 Sadie learned Sonar Passion shortly after she join your party when she reached level 22. It cost 13 MP, has range of 3-4 and target 1 tile.
It has a flavor text "White noise blast"
Information
Edit
Ad blocker interference detected!
Wikia is a free-to-use site that makes money from advertising. We have a modified experience for viewers using ad blockers

Wikia is not accessible if you've made further modifications. Remove the custom ad blocker rule(s) and the page will load as expected.